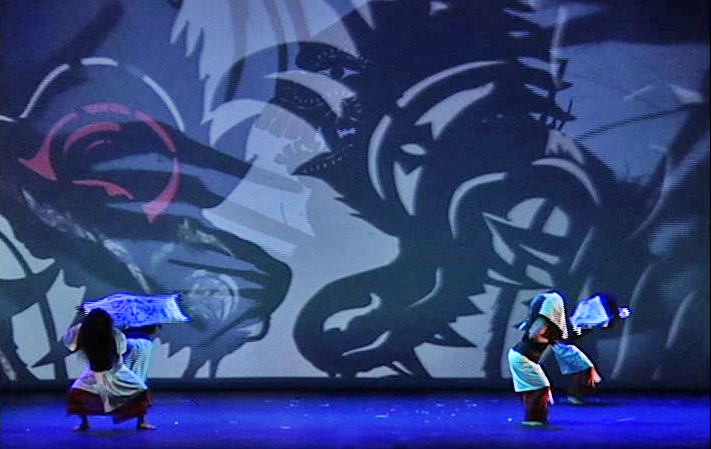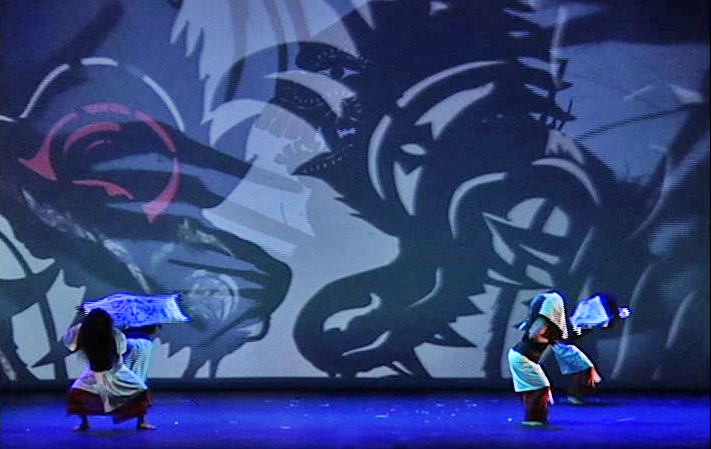 Kawit Legong: Prince Karna's Dream
Kawit Legong: Prince Karna's Dream, was conceived by I Ketut Kodi with Ni Ketut Arini, I Nyoman Windha, and I Wayan Dibia and is directed by Ellen Sebastian Chang. It includes a cast of more than twenty dancers and a full thirty-member gamelan orchestra.

The story surrounds the birth of Legong, the famed "dance of the celestial nymphs" first seen in a meditative dream by a 19th century Balinese prince. It highlights the multiple dimensions of the Balinese universe, from the "seen" world of humans to the "unseen" magic world of the gods, and the striking contrasts of real and dream worlds as the prince brings his vision to earth.

These will unfold on the Zellerbach stage in a panoply of projected giant-screen shadowlighting effects created by Larry Reed's ShadowLight Productions, complemented by vivid lighting design by Alex Nichols.

The cast of Balinese musicians and dancers reads like a "who's who" of Balinese performing arts. Dancers will include I Ketut Kodi (in the leading role of Prince Karna), Ni Ketut Arini, I Wayan Dibia, Ida Ayu Diastini, I Nyoman Wenten, and two award-winning 11-year old Legong dancers. The musicians include I Nyoman Windha (who composed the entire 80-minute score), I Made Subandi, and I Dewa Putu Berata, who together lead the gamelan orchestra of bronze metallophones, gongs, drums and bamboo flutes.
Performers:
Ramon Abad, Luh Putu Adnyani Utami, Matthew Antaky, Lorna Aquino Chui, Ni Ketut Arini, I Dewa Putu Berata, Avi Black, Wan Chao Chang, Phil Cox, Cuco Daglio, Beatrice Deering, I Wayan Dibia, Ryan Elleson, Mary Francis, Lisa Ann Frederiksen, Lisa Gold, Barbara Golden, Todd Greenspan, Ayesha Hansen, James Harding, Reiko Hasegawa, James Hogan, Maddie Hogan, Steve Hogan, Cecillia Hong, Lars Jensen, Steve Johnson, I Ketut Kodi, Tim Lee Smith, I Wayan Leger, Nick Lenzmeier, Deborah Lloyd, Joyce Lu, Richard Marriot, Kompiang Metri-Davies, I Made Moja, Heoika Muljadi, Christina Neuner, Alexander Nicols, Mudita Nisker, Mimi Prather, Jeff Purmort, I Made Putrayasa, Janaki Ranpura, Larry Reed, Rotrease Regan Yates, Christina Rowland, Mark Salvatore, Ellen Sebastian Chang, Ida Ayu Sugiantari, Wayne Vitale, Richard Wallis, Sarah Willner, I Nyoman Windha, Kwan Wong, Karen Zilber, Agus Zusalim